Our thumbs have taken over. How did it happen? Perhaps it was when we got TV remote controls and stopped getting up off the couch to change channels. Or maybe it was when we let our thumbs do the walking while we did the talking on wireless telephones and handy cell phones.
Our kids have hyper-thumb-mania, too. Ever notice how their little thumbs dance across video game controllers while they play virtual football or basketball? It must be exhausting – for their thumbs!
The fact is our thumbs are getting a great workout! But what about the rest of our bodies?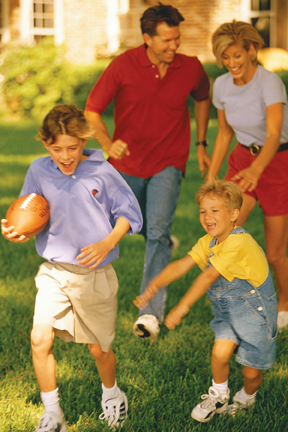 What's the score?
"Over half of Canadians aged five to 17 are not active enough for optimal growth," says the Public Health Agency of Canada. Since the 1980's, the prevalence of overweight children has doubled and obesity has tripled.Pediatricians and family physicians are already seeing weight-related health problems in children, such as high blood pressure, type 2 diabetes and high cholesterol.
"We're squandering our children's mid-life health," asserts Dr. John Frank, Scientific Director of the Canadian Institutes of Health Research – Institute of Population and Public Health. "Based on current rates, one-third of all children born today will become type 2 diabetic."
"Kids younger than eight spend two and a half hours a day watching TV or playing video games, while kids older than eight spend four and a half hours doing the same," reports the Heart and Stroke Foundation of Canada in their book Fit Kids – A practical guide to raising healthy and active children from birth to teens (Dorling Kindersley Ltd., 2004).
Computer and video games are addictive insists Dr. Frank, "They're designed to engage you psychologically to such an extent you find it impossible to turn off the machine and go to supper.
"The experts agree that limiting "screen time" is critical to families getting more active. What's a good limit? Fit Kids recommends no more than one to two hours a day watching TV or playing computer games. And never place a TV screen or computer monitor in a child's bedroom – no matter how many tears it causes.
Canada's Physical Activity Guides (www.paguide.com) state that children should work toward at least 90 minutes of physical activity each day! We know our families should be more active. But how? Busy schedules, long commutes, expensive sports equipment or fees, and concerns over neighbourhood safety often get in the way.We're stuck contends Dr. Frank.
"We're stuck because we're not willing to stand up, speak out and say, 'Hey, this is a disaster!'"It's not going to be easy, but you can make family fitness safe, accessible and fun. It's time to stand up and get your family moving!
10 ways to turn your techno-family on to fitness
1) Do it yourself
Parents must lead by example. "A child who has active parents is six times more likely to be physically active," reports Fit Kids. If that means actually going to the gym three times a week, joining a softball league or dusting off your bicycle, get moving. And stop your complaining! If you grumble about exercise, so will your kids.
2) Have fun
Families will exercise more if they're having fun. Inline skating, tag, scavenger hunts, swimming and bike rides are all fun ways for families to get physical.
Researchers in Fit Kids say certain factors help make physical fitness fun for a child. When evaluating a physical activity, parents should ask:
Is my child enjoying positive interaction with peers and coaches?
Are they receiving praise and support?
Have they mastered a new skill and are proud of it?
Does my child enjoy the way this activity feels?
Brooke (10) likes to play soccer and volleyball… but she loves to play hide-and-go-seek with her friends! She says she'd be more active if she could go to the park more.
3) Listen to your kids
Have family members take turns picking group activities. As much as you may like a Sunday morning bike ride, the kids may really want a game of basketball. By taking turns, everyone gets to do something they love and variety is essential to an active lifestyle.
Stephanie (11) enjoys dance more than TV or computer games. She says if her parents want her to be more active, they should suggest some camps that have lots of activities and let her pick the one she likes best.
4) Be creative
Bored with family walks and bike rides? Think beyond the traditional. Try bowling, golf, kayaking, curling, horseshoes, badminton, hip hop, or karate. Or better yet, create your own family games. On rainy days, plan fun indoor games. In their book, 365 Unplugged Family Fun Activities, (Da Capo Lifelong Publishing, 2004) Steve and Ruth Bennett suggest Bocce Socks, Balloon Decathlon and Shooting Hoops in the living room.Trevor (12) has a conditional junior black belt in karate. His favourite physical activity is playing a game he invented called Blitz Ball. He says that it's kind of like soccer, but you get to pick up the ball.
5) Take out the competition
It isn't for everyone. Team sports can be stressful for participants and demanding on a family's time. The Bennetts state, "Competition can add a nasty edge to otherwise enjoyable games. Encourage kids to try to top their own previous scores rather than yours, a sibling's or a friend's."
6) Get the right stuff
If your house is filled with electronic equipment, your family will play electronics. If it's filled with games and sports equipment, they'll play games and sports. Fit Kids suggests stocking the garage with a basketball, baseball and glove, football, soccer ball, volleyball and net, tetherball set, badminton set, flying discs, sidewalk chalk, jump rope, croquet set and inline skates. At garage sales you can pick up used sports equipment affordably.
7) Be sneaky
Children love to help around the house. It makes them feel grown-up and important. Fit Kids suggests household chores are the ideal way to sneak physical activity into your kids' schedules and keep your house running smoothly. Sweeping, vacuuming, washing the car, raking leaves, walking the dog and cleaning their rooms are just some chores to try. (My son got an amazing workout moving the family video collection upstairs three movies at a time).
8) Use your head to set an example
Before you automatically jump in the car to run a family errand, determine if you can walk or ride bikes instead. If you must drive, park a few blocks away. Bypass the elevator or escalator and take the stairs. Sure it may take a few moments longer, but think of what you'll gain in the long run. Your kids may even start walking to school.
Dr. Frank laments, "If you're driving your kids to an activity that also involves no physical exercise, you need to think about how to make that different." It may mean walking the kids to computer camp or switching them to basketball camp. Or, add physical activity before or after a sedentary activity.
9) Put it in writing
Support your family's commitment to physical activity with activity menus, activity logs, fitness contracts and goal setting suggests Fit Kids. Display them on the refrigerator to keep physical fitness at top of mind for everyone.
10) Create a fit community
Being active in the community makes for a more active family. Health Canada's Family Guide to Physical Activity for Children suggests parents:
Create neighbourhood outdoor games – pickup hockey or hide-and-seek
Coach local sports teams or organize community activities eg: charity walk-a-thons
Be an advocate for more physical activities and facilities in schools and communities
Campaign for increased child safety at playgrounds, parks and on roads. Designated crosswalks, neighbourhood watch programs and well-constructed playground equipment improves outdoor safety.
Families, give your thumbs a break! Put down the remote control, cell phone and game controller. Pick up a new, active lifestyle! Your exhausted little thumbs will thank you.
[This article was originally published in the Canadian Health & Lifestyle magazine.]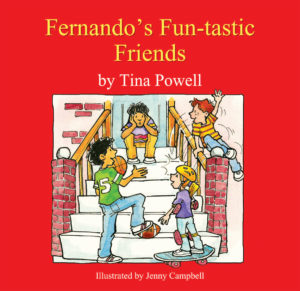 To learn more about or to purchase Fernanando's Funtastic Friends visit Tina Powell Book Boutique>>